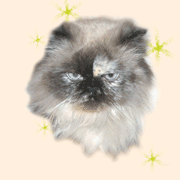 Story of Life
Tiffany saw the light of day at her breeder's house on February 13, 2003, together with her brother Dusty. She was only three weeks old, when we saw her the first time. She was sooo tiny and anxious and meowed pitifully when she was taken out of her cat-bed and introduced to us.
Mid of May 2003 we went to pick up this little bundle of fur. When her breeder set her on my lap I noticed that this little baby-cat was so scared. We decided that she should have a playfellow as soon as possible.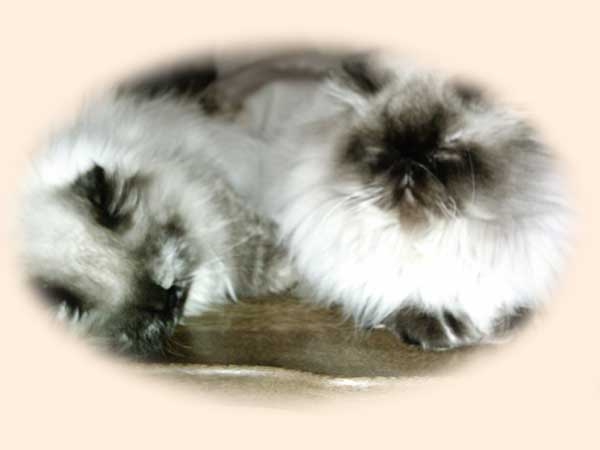 Fortunately there was one of Tiffany's brothers available who was looking for a new home. When I saw Dusty, it was clear: This is the right companion for our little velvet nose. We set Dusty into the transportation box and immediately he placed himself in a protecting manner in front of the fearfully shivering Tiffany. And we knew that he would protect her for the rest of her life…
When we arrived at home we opened the transportation box. Dusty was the one to explore his new environment while Tiffany still was afraid and remained in the box. She watched him suspiciously as he gave his new home a close inspection. Quite clear who was the boss!
Tiffany was a very shy little girl. And she stayed like this throughout her life. When she came to us it took five weeks until she grew to trust me.
Day after day I was kneeling under the dining table talking to Tiffany. She was cowering on one of the dining chairs and did not move. Only at night when everything was calm she left her place or, sometimes, when she had to go to the litter box.
Until then I was speaking to her. Day by day, hour by hour.
In the course of time our little kitten began to relax and became increasingly calmer. But still, when I cautiously reached out for her, she was hissing in panic and moved back.
Sometimes my patience paid off and she allowed me to pet her, however, suspiciously watching me. But over the time her suspiciousness disappeared and she left her place more often, not least because of her brother Dusty. He was thoroughly examining his new home during these first five weeks and Tiffany watched everything he did.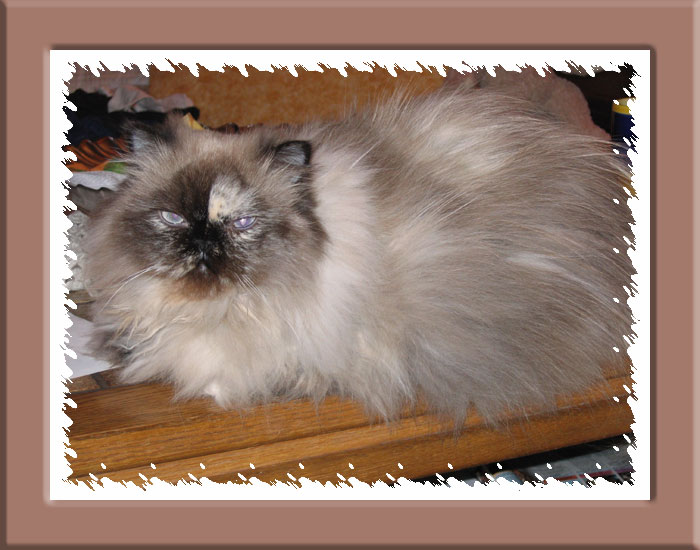 And after 6 weeks comforting speaking, she finally came out of her hiding place cautiously looking around, tiptoeing through the living room to my sofa. And with one big leap she landed on my lap.
I was overwhelmed with joy. Now the ice was broken and this was the beginning of a close friendship.
Well, Tiffany has conquered my lap and guess what happened next? Dusty came right after Tiffany, looking just as he wanted to say: "Hey there. Is there anybody to pet me, too." And that's what happened very often. Tiffany became my snuggle baby. She laid herself on me and then crawled up to my neck. She was an affectionate and also curious cat and a non-stop purring machine. Very often she rubbed her little head on my nose and gave me little kisses.
Every morning she woke me up. She came to my bed and touched my face very carefully with her little paw, accompanied by a silent meow.
When I did not show any reaction, she jumped onto my bed, laid down on my breast and began licking over my face until I woke up. Then she jumped down to the floor, heading to the kitchen, where her feeding place was. She stopped and turned around several times to see if I was following her to prepare her fresh food. Oh yes. Tiffany was a very conscientious little cat who understood to have her own will. She conquered our hearts on soft paws.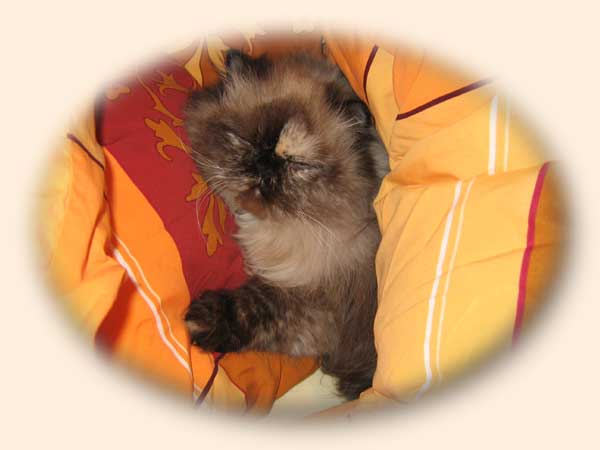 Every Sunday morning she loved to slip under my bed cover to make herself comfortable. She took another little nap until it was time to get up.
Her brother Dusty was and remained her bodyguard. He protected her whenever it was necessary, mostly at the vet's.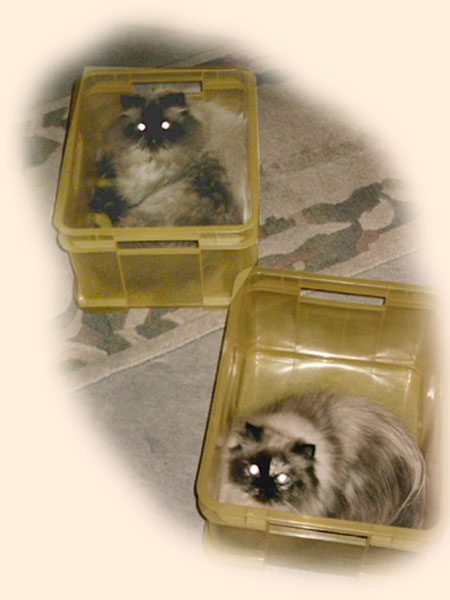 These two were an inseparable dream team. They were playing, scrimmaging, tussling and chasing each other. Finally, when they were exhausted they were laying on the sofa, huddling together.
Tiffany was the loveliest kitten I ever was privileged to be a cat's mom.
It was wonderful watching these two fellows...